We independently research, test, review, and recommend the best products—learn more about our process. If you buy something through our links, we may earn a commission.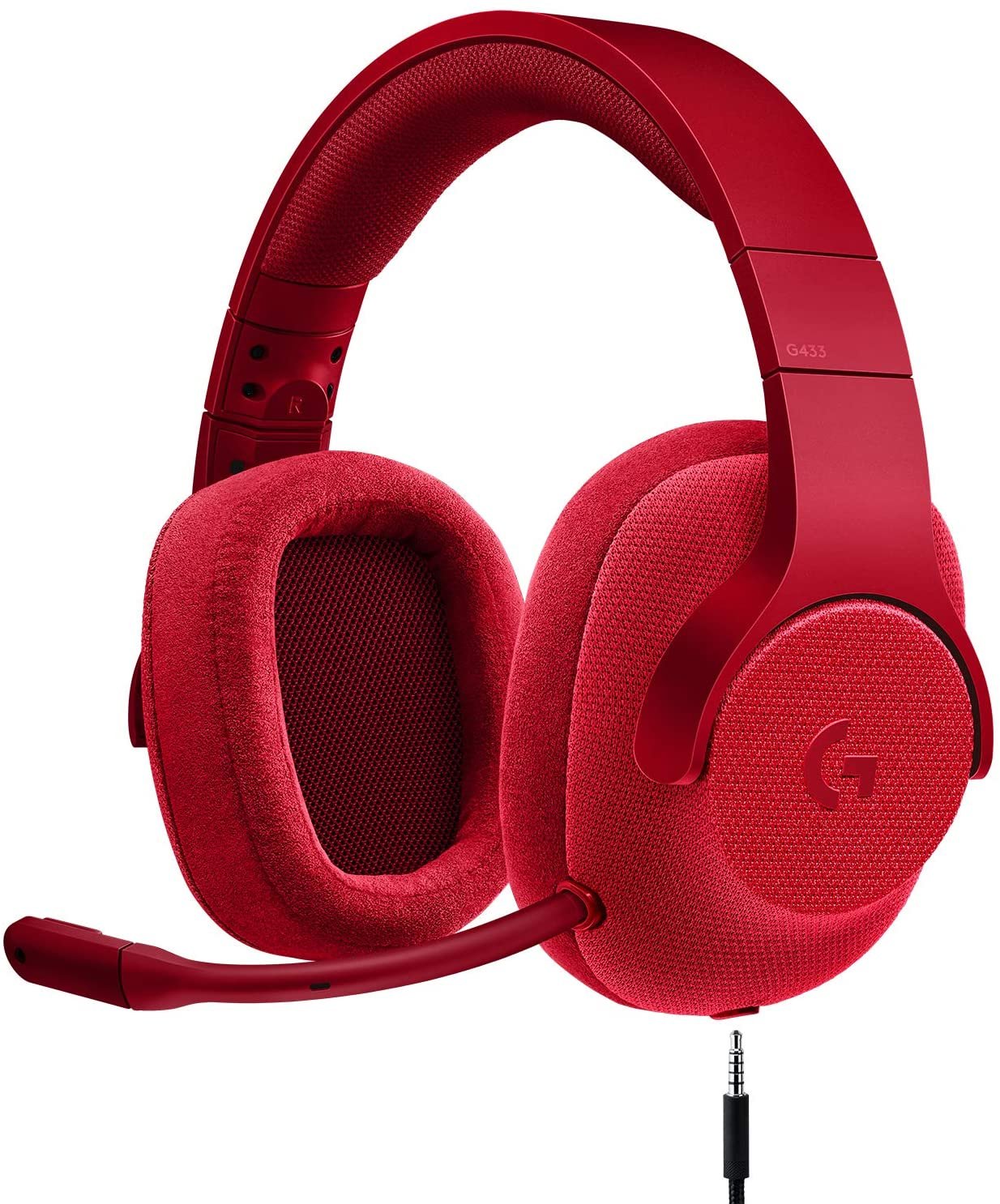 Bottom Line
We have reviewed the Logitech G433 gaming headset and provided you with the relevant information about it. This headset is quite good with decent sound quality and design. The design overall is very simple though but it does offer a good quality gaming experience.
Logitech g433 gaming headset can offer 7.1 surround sound for a good PC gaming experience. They are very comfortable to wear but not very portable as they can not be folded.
Logitech G433 Gaming Headset
It does have its downsides but when we take everything into consideration, Logitech G433 is perfect for a balanced quality time session. Its design is made to be comfortable so that you can just go on and not have any discomfort. We are now going to talk about some of its features and why it still stands out in the market as a perfect choice for a gamer.
Logitech g433 gaming headset has a decent sound quality and is not quite over the top or top-notch. In other words, it's good enough for an average gamer. They are lightweight and comfortable and their ear cups are made of breathable fabric that allows you to game longer than usual.
Its overall design is quite simple and not very gamer-looking but they come in several different colors that can match your gaming theme. You can also remove and wash the ear pads. It has a decent noise filtration system that reduces the background noise.
It is a wired design headset which means they are not as convenient as a wireless headset, especially since its wire does not have enough range. If you are using this headset in the office then you most probably can hear the background noise and it also leaks a lot of sounds which could distract your colleagues.
It is incredibly lightweight which in return offers greater comfort to the user.
Every gamer wants to have the best possible gaming performance when they put the headphones on. Well Logitech G433 gaming headset is no doubt will serve that purpose. Whether you are into long gaming sessions or just want to listen to music at its best, this Logitech G433 headset has it all for you.
All of these features will give you the most balanced experience of all time. You can even hear the sneaking enemies in counter-strike and battlefield games.
It is a gaming headset, after all, there is no way that you would be disappointed. Although the design is quite simple, its overall sound quality and microphone noise filtration system are quite good which simply balances out everything and offers a good fun time.
When playing an RPG (Role-playing game) every character's dialogue sound more clear to the ear. When in a fight, the sword blows, punch, and kick sound effects are insanely good. I have played Sifu for an experiment and the results were quite good as I was able to fully immersive myself in the game. Sifu does not have very ultra-realistic visuals but it does have some very good sound effects, that have been implemented and perfected into it.
Each sound effect I heard is impressive and crisp. It might have some downfalls as compared to a gamer-themed ultra-quality sound headset with a modern design but it is not very bad either. If you are looking for a well-balanced experience at a good price then the Logitech G433 gaming headset should be your first choice.
Let's get into more detail here by talking about how its Logitech software can further helps you in your gaming endeavor. Software for your Logitech product is a must because it can offer up to 50+ settings to choose from making a new profile for your game and so on. You will be using the USB adapter and the software which means it is only available on PC though. You can always customize the equalizer settings, make new profiles, and much more. The software control is that hard or very complex, you will get used to it pretty quickly.
As of the compatibility then as we discussed above, it is very much PC exclusive and the console gamers would not be able to have these software features enabled on their devices
One of the best things about this headset is that it comes with several different accessories like two pairs of earpads, a detachable microphone, two cables, a cloth carrying bag, and a USB sound card. The PC cable that comes with it is 6.5 feet long and is cloth wrapped and also has an inline remote which you can use to mute the sound or lower or higher up the volume.
The case that carries the headset is soft and can comfortably fit your Logitech G433 gaming headset. The case also has enough room to put cables in it. All these accessories make this headset a must-have thing. So what are you waiting for get the Logitech G433 headset today!
If you are looking for a very well-balanced headset that is not very pricey either then this one needs to be in your shopping cart. We talked about its sound quality and design as well. It is a wired headset whose material is made of breathable fabric, you can keep using it for as long as you like if you are into longer gaming sessions.
Although it is not very portable and the wire is not long enough. We discussed how it can enhance your gaming performance when you hear enemies sneaking in on you. Its software which is available on PCs is quite helpful because there are different settings to choose from. There are also different accessories that come along with it which you would probably like. So overall this is a good Headset if you are an average gamer.
Thanks for Reading!
Similar Products We've Reviewed:
Logitech G433 gaming headset