Millions around the world have Snapchat installed, and not many know certain things about this app. For example, some do not know what pending really mean on Snapchat? Pending is a message to you, and we sometimes do not get the idea of it being used in apps. We as social media enthusiasts only focus on a few things and sometimes do not give attention to the little details.
What Does Pending Mean on Snapchat?
We are missing out on the little details in our lives and the apps as well. Especially people who are new on Snapchat might find some things confusing. And it is totally ok to get confused and lost when you can't find the solution to the problem that has just occurred. Let's discuss why you have been shown a "pending" text on Snapchat.
What Does it Mean?
You must have seen "pending" written under the name of your friend or family member in a snapchat chat tab. When you see pending anywhere in a chat tab, that means that the message you have sent to a friend has not been delivered yet. This is why it is pending. You might confuse it with being blocked by that person, which is not always the case. You see a pending icon on a person's profile with a gray arrow. The gray color highlights its meaning even more.
Here are a few reasons why you are seeing pending on Snapchat?: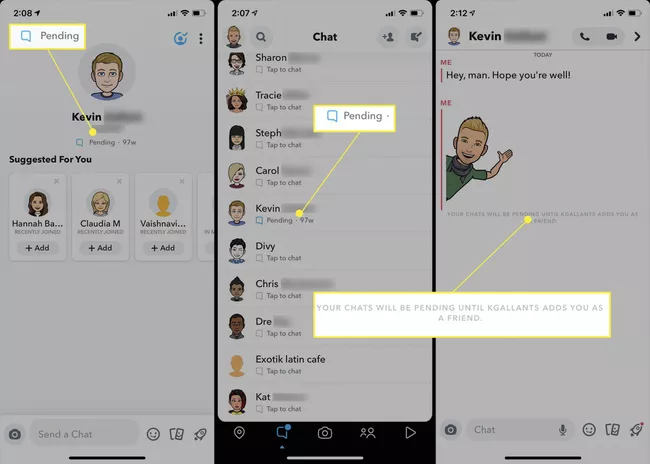 1. Unfriended
If you have started seeing "pending" for your messages for a specific person then that means you have been probably unfriended by this person. If you haven't been too active lately then it is the case probably. Some people erase those guys who are less active and only keep those who are more active than others. You can also search for his/her name to confirm whether you are unfriended or not.
2. Your Friend Request is on "Pending"
Another reason is that your friend request that you have sent to this person has not been approved just yet. This is why you are seeing a lot of pending in the chat room with this person. Your message won't be delivered until they accept your request. So wait until then, because there is also a chance that they might not have been so active lately or simply did not want to accept the request.
3. You have been Blocked
So the third reason could be that you have been blocked. If that person you have been trying to contact has been once your friend and you guys had an argument or something then it is pretty evident that he/she must have blocked you. You do not need to worry as these things occur in life, and it is better to let go than chase that very person. But do not assume too quickly as there are a few more reasons left to discuss.
4. His/Her Account has been Deleted or Deactivated
If you think you have been blocked then think twice, because there may have been a chance that this person has deactivated his/her account or Snapchat may have removed his/her account. When you do not follow the community guides, any app would take action and delete your account. Or if it has not been deleted then it might have been deactivated, which means the person must have deactivated his/her account out of frustration.
5. You have lost your Internet Connection
If you are having trouble with the internet connection lately then this might have caused a pending to occur under your friend's name. We do not always notice it but Snapchat usually glitches out when the internet goes on/off a few times. So try to keep your connection stable and make sure to clear your Snapchat cache so that it works for you.
Summary
In this article, our main focus was to find out the reasons why there is pending written under a person's name in the chat room. So far we have learned that a person may have blocked you, deactivated his/her account, account removed, connection lost, may unfriended you, and the person might not have accepted your request to be his/her friend.